Reflexologists understand that reflexology [1] helps release stress [2], which in turn helps the body heal and regenerate itself.
One theory is that reflexology works with the central nervous system. This theory builds on research done in the 1890s by Sir Henry Head and Sir Charles Sherrington, who began to show through their research that a neurological relationship exists between the skin and the internal organs, and that the whole nervous system adjusts to a stimulus.
According to the theory, the reflexologist's application of pressure to feet, hands, or ears sends a calming message from the peripheral nerves in these extremities to the central nervous system, which in turn signals the body to adjust the tension level. This enhances overall relaxation, brings internal organs and their systems into a state of optimum functioning, and increases blood supply (which brings additional oxygen and nutrients to cells and enhances waste removal). It positively affects the circulatory, respiratory, endocrine, immune, and neuropeptide systems in the body.
Another theory that may also explain how reflexology can produce pain relief is the gate control theory, or, more recently, the neuromatrix theory of pain. This theory suggests that pain is a subjective experience created by your brain. The brain does this in response to the sensory experience of pain, but it can also work independently of sensory input and create pain in response to emotional [3] or cognitive factors. Thus things that influence the brain, such as your mood or external factors like stress can also affect your experience of pain. According to this theory, reflexology may reduce pain by reducing stress [2] and improving mood.
Yet another theory holds that there is a "vital energy" in the human body. If stress is not addressed, it leads to congestion of energy, which in turn causes bodily inefficiencies, which can lead to illness. According to this theory, reflexology helps keep the energy flowing.
What about zone theory?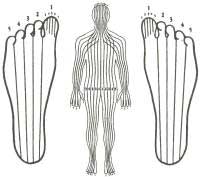 The recognition of reflexology as a specific type of treatment began with Zone Theory, in which the body is divided into 10 vertical zones. Each zone corresponds to fingers and toes all the way up to the top of the head. For example, if you are standing up with your hands on your thighs (palms facing down) the thumbs and great toe would be zone 1. On either side of the body, the index finger and second toe would be zone 2, etc.
In reflexology theory, every organ, valve, muscle, etc. that lies within a zone can be accessed via a point or area on the feet or hands. For example, working between toes 2 and 3, or fingers 2 and 3, the eye point is found. These pathways between pressure points and other parts of the body are thought to be connected via the nervous system, as described above.

The zones are similar to, but not the same as meridians found in Chinese medicine [4]. However, there are some correlations with some meridians and the location of organs on the feet and ankles.
What are the guiding principles in reflexology?
There are several principles that guide reflexology practice.
Reflexologists do not heal clients; the body repairs itself. The reflexologist acknowledges that he or she is a participant in the session, rather than "the healer." As with all healing arts, it is important for the practitioner to center and ground themselves and then "get out of the way." This is an acknowledgement that reflexology is offered to help bring the person back into balance so that the body can nurture and repair itself. A reflexologist knows that the purpose of this work is to help the client's body come into alignment with its own energy and ability to heal.
Humans consist of a physical and emotional body, with a mind and spirit. These are interdependent. The reflexologist takes into account all aspects of the client's being: body, emotion, mind, and spirit. A relaxed body induces calm emotions [3], a serene mind, and an integrated spirit.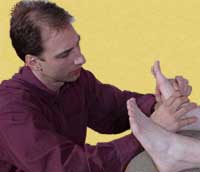 The body responds to touch which allows healing on all levels. Frequently, clients will think they have to "focus" or "concentrate" to feel the benefits. While being quiet will frequently induce a deeper feeling in the novice, the client needs to have no special skills or habits for reflexology to work. As long as the reflexologist has knowledge, stays centered, and allows the flow of energy to occur, the client will respond positively.
It is possible for practitioners and clients to feel energy move. A reflexologist can sometimes feel the energy move from a point of pressure on feet, hands or ears throughout body. For example, when working on the spleen and gall bladder points, the practitioner can access the points at the same time, and actually feel a flow of energy. Frequently, due to the power of these two points, the client can also feel the flow.
References
F. Cervero. (1985). Philosophical Transactions of the Royal Society of London. Series B. Biological Sciences. Nociception and Pain. 308(1136), 325-337.
Fitzgerald, Wm. H. and Edwin F. Bowers. (1918). Zone Therapy; or, Relieving Pain at Home. Columbus, O., I. W. Long.
H. Head, (1893) On the disturbances of sensation, with special references to the pain of visceral disease. Brain. 16:1-133; 1894, 17: 339-480; 1896, 19: 153-276.
Stephenson, N. L. N., Swanson, M., Dalton, J., Keefe, F. J., & Engelke, M. (2007). Partner-Delivered Reflexology: Effects on Cancer Pain and Anxiety. Oncology Nursing Forum, 34(1), 127-132.